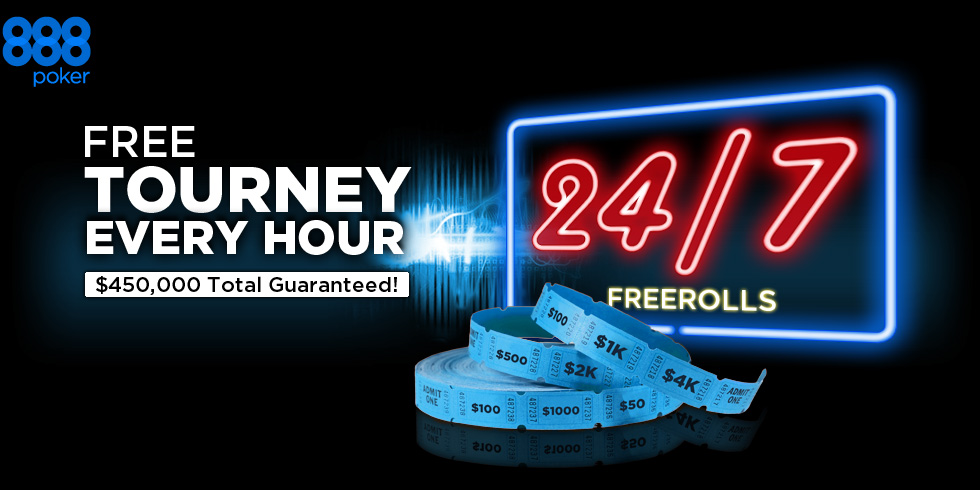 Who says you need to play real money online poker? 888poker makes it possible to build a bankroll without making a deposit. Currently (on 888poker.com) 24/7 freerolls are offered for all players. These aren't your ordinary online poker freerolls. These are freerolls that pay out enough to get your bankroll started.
888poker's daily freerolls are available to new players (no deposit required). Once you join, you will have 24 hours to play as many freerolls as your heart desires. During this promotional period, $10,000 each day is awarded to players in freerolls.
But that's not all there is going on at 888poker right now. After your initial 24-hour freeroll period runs out, you will be eligible to receive another 48-hour freeroll period. These 48 hours of endless freerolls will be granted following your first deposit by entering code "NONSTOP247". Last but not least, new players (no deposit required) receive 888poker's popular $88 free offer (see 888poker for full details).
Online Poker Freerolls are a Great Way to Build a Bankroll When Funds are Low
When money is tight, it's hard to find disposable income to play poker. Fortunately, online poker makes it possible for those short on funds to build a bankroll. In 2007, Chris Ferguson turned $0 into $10,000 in a challenge. He got the ball rolling by playing online poker freerolls on Full Tilt Poker.
Online poker freerolls are great poker tournaments for a few reasons. First off, it's better to play a online poker freerolls than play money games because you can actually win real money in a freeroll. Another reason freerolls are great is because they are low stress tournaments. You don't have to invest a penny to play in a freeroll so you won't get stressed out if you don't win. But the best benefit of freerolls is they are an excellent way to learn how to play poker or improve your game without risking any money.
888poker wants you to "play poker for free until the sun comes up". Win real money. Improve your game. Build your bankroll. You can do it all for free over at 888poker.com.
Go to 888Poker Now!